The Heritage Group Hosts Advancing Circularity in Indiana Symposium
INDIANAPOLIS, IN – May 6, 2022 –
More than 160 attendees representing 70 organizations across the state gathered at The Center, The Heritage Group's state of the art facility on Indy's northwest side, Friday, May 6, to discuss advancing the circular economy in Indiana. The symposium, co-hosted by The Heritage Group, Circular Indiana, and the Indiana section of the American Chemical Society, was designed to bring Hoosier innovators together to accelerate Indiana's circular economy. Participants heard from industry leaders and subject matter experts to leverage the group's collective expertise to support Circular Indiana's mission to eliminate waste, capture resources and build a sustainable ecosystem. Participants engaged in interactive sessions to identify hard problems we're facing in achieving circularity in Indiana, barriers to success and new ways of working together to overcome these challenges.
Amy Schumacher, CEO of The Heritage Group, began the day with opening remarks. "Circularity is fundamental to what we do," Schumacher said. "Whether it's recycling asphalt back into roads or recycling batteries, this idea of leaving the world in a better place than you found it is who we ultimately are."  Schumacher introduced Governor Eric Holcomb, who described why now is the time for Indiana to translate its manufacturing growth into advances in the circular economy.  "We have to make sure that, as we're ushering in these new industries, not only do we have to maximize our resources, but we have to put ourselves in a position that's sustainable," the Governor said.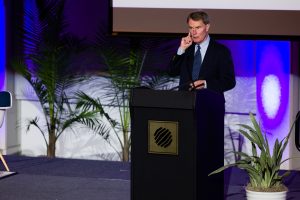 The program came to an end with closing remarks from Indianapolis Mayor Joe Hogsett. "I can't say enough about The Heritage Group and its leadership in this regard," Hogsett commented after the event. "I mean, it's always been the gold standard for Indiana,but I think what is represented by meetings like today — and The Heritage Group's leadership in this regard— is bringing people together from all over, particularly leaders of government."
The success of the event reflects the importance of the partnership between private industry and the public sector, which is a key focus of the work The Heritage Group, Circular Indiana and the ACS are doing to innovate and invest in Indiana's circular economy.