pictured: Brothers Scholarship recipient Ashlyn Halstead (right) and her dad, Robert Rood.
The Heritage Group is proud to announce that 114 dependents of Heritage family employees have been awarded a Brothers Scholarship for the 2021-2022 academic year. The program awards renewable scholarships of $2,000 to recipients to assist with the cost of higher education. By investing in students' futures as they pursue a college degree, we're sharing the passion for education held by the Fehsenfeld family—including the brothers for whom the scholarship is named.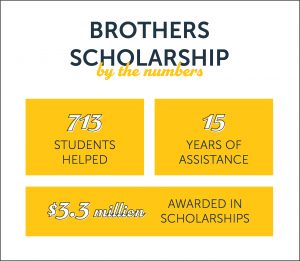 Among the future leaders awarded this year's scholarships are 40 first-year recipients, many of whom began their undergraduate studies last fall. These students represent 27 colleges and universities across the United States, reflecting the breadth and diversity of the Heritage family. The remaining 74 recipients are in their second, third, fourth or fifth year of receiving the scholarship.
"The Brothers Scholarship is an outstanding opportunity for our organization to give back to the families of our employees and to help invest in the educational attainment of our future leaders," said Early Career Talent Specialist Lexie Seward. "Brothers Scholars are uniquely situated not only to benefit from our scholarship program, but also from the unique opportunity to participate in our summer internship program, which many have done so far."
Meet the Scholars
Ashlyn Halstead, a third-year recipient, is a Marketing major with a sales management concentration at Indiana State University. She spent last summer as an intern with Milestone Contractors, where her dad Robert Rood is an Asphalt Manager.
"The Brothers Scholarship has been a blessing to me and my family for the past three years. As a student who lives outside of my parents' home, I have a lot of financial obligations. Receiving the scholarship has given me financial security when it comes to school and has helped ensure that I have enough financial aid to cover tuition and book fees for the year. I want to thank the Heritage Group for the support they have given me and the help they have provided in reaching my academic success." – Ashlyn
"The Brothers Scholarship has been a tremendous gift to my family! To see them support my daughter's educational dreams brings me pure joy. I would like to thank The Heritage Group for all that they do!" – Robert
---
Former THG intern Conner Woods is a second-year recipient majoring in biochemistry at North Park University with plans to pursue a PhD after graduation. His dad, Jason Woods, is a Bulk Dispatcher at Heritage Environmental Services.
"The scholarship allows me to venture outside of Indianapolis and my family and I to breathe comfortably financially. Our main worry heading into my collegiate career was cost, and The Heritage Group has helped greatly in that sense." – Conner
"Our family is grateful that Conner received the Brothers Scholarship. His goal of attending school in Chicago was able to come to fruition, in part, due to the scholarship. His goal is to graduate debt free and pursue a PhD, the scholarship has eased the financial burden for him. I am extremely thankful to work for a family-owned company that has the vision to invest in young individuals and talent." – Jason
---
Lauren Sliger is a second-year recipient majoring in psychology and minoring in chemistry at Butler University. She plans to go to dental school after graduation and finds inspiration in her dad, Milestone Superintendent Brian Sliger's, work ethic.
"When I first realized I received the Brothers Scholarship, I felt very honored. It definitely motivated and drove me to focus on my academics without having the financial burden and stress. College is so expensive, so having this scholarship meant a lot to my family, especially to my dad through his work. It motivates to help out my community as well.
"Watching my dad in his career, I was very inspired to work hard through whatever I was doing. He's always been passionate about getting the job done, teaching people, being a leader—and I knew that whatever I was doing, I wanted to bring the same attitude and leadership. I've been inspired through the scholarship to focus on school and bring the same passion to my community that I learned from my dad."
---
Hunter Assenmacher is a second-year recipient enrolled in a five-year masters program in architectural engineering at Lawrence Technological University. His dad, Scott Assenmacher, works in sales at Asphalt Materials, Inc. Hunter's sister Hanna Assenmacher is also a Brothers Scholarship recipient.
"The Heritage Group made me feel like I'm part of the family, and part of something bigger than just myself. My family and I have always put family first, and it's really nice to see how a large company like this has the same values, just on a much larger scale. So as a student, it's really furthered my desire to learn and work towards a career where I can find myself in a supportive community like this and eventually give back in a similar way." – Hunter
"It starts with family, and I'm really proud to be part of the Heritage family. I'm happy to be the catalyst that gets to tie it all together so that my kids can benefit from this scholarship." – Scott
---
To learn more about the Brothers Scholarship and how you can apply for next year's funds, visit https://thgrp.com/brothers-scholarship/.