How the Heritage Research Group fuels innovation for Techstars Accelerator startups.
–
The Center, Electrified
Those who tuned in to virtual Demo Day, the culmination of the 2020 Heritage Group Accelerator Powered by TechStars, witnessed the final product of the development, strategy and mentoring that went into the 13-week accelerator. Each of the ten founding teams participating—some of whom hailed from as far as the Netherlands—created a five-minute recorded pitch showcasing their startup's vision, progress and plans for the future. If you just watched the video, you might have missed the months of creative collaboration that laid the foundation for the pitches.
Despite the impact of COVID-19, the accelerator produced an "electric" Demo Day, according to Senior Director of HG Ventures Ginger Rothrock. "The environment in the accelerator when it's full of founders is incredibly active and upbeat," added Chemistry Research Manager Meghan McLeod of the 13-week process preceding Demo Day. "There's so much energy. There's so much excitement."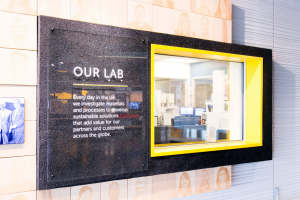 Participating founders quickly discover a hidden gem of The Heritage Group (THG) Accelerator: the Heritage Research Group (HRG). When introducing the accelerator in a May 2021 Crowdcast, Nanci Churchill of Techstars touched on this aspect of the program: "The lab that's on site at The Heritage Group is a world-class facility that allows startup companies to run experiments in cooperation with the HRG lab team, which is phenomenal."
Staffed by a team of experienced chemists and researchers, THG's in-house research and development laboratory solves some of the biggest business and customer problems among the Heritage family of companies. Their work is behind several innovations that THG harnesses to build a safer, more enriching and sustainable world.
A Dream Team
The process begins with McLeod, whose non-accelerator months are spent overseeing analytical chemistry research for HRG. McLeod acts as a liaison between HRG and the startups involved in the accelerator. "[When] all the companies come in, I have one-on-one meetings with them, and I identify product characterization, development, and pilot opportunities that we can work on during the program," she described. After this initial meeting, McLeod assesses the tools at her disposal, including those on-premise at HRG facilities (all of which are accessible to accelerator startups). After identifying an expert in the area in question, McLeod assembles a team of researchers to address the startup's unique issue.
The Work Begins
In the case of Mobile Fluid Recovery (MFR), a startup dedicated to the cleaning and reuse of industrial waste streams, the collaboration with HRG took about a month from start to finish. CEO Justin Edmondson described the root of the challenge in his Demo Day pitch as "unlock[ing] the liquids from the solids in the waste stream."
"The waste stream he had was too high in sulfur for resale," said McLeod, describing high-iron metal fines with resale potential. "Justin already had that in mind, and when we met, that was something he identified as a particular problem the research group could help with."
To resell the metal fines, MFR had to satisfy requirements for sulfur content by removing that element from the waste stream. HRG's chemists rose to the challenge, taking a sample of metal fines and performing elemental analysis. "We helped him both quantify and type the sulfur, and then come up with an approach to remove it [from the waste stream]," McLeod said. The process evolved to a point where Edmonson's team could perform it in their own facilities, opening MFR's services to valuable new customers and, potentially, a new market.
"Industrial waste stream management is about a $60 billion industry. We recycle only about 30% of all waste streams today," said Rothrock, "but the EPA believes about 75% of the waste streams are recyclable. MFR is unlocking the value of waste streams that are not currently recycled… and now, thanks to our research group, [Edmondson] has a solution that adds value to the company and his customer base."
This waste stream innovation also underscores an essential tenet of THG's mission: sustainability. By reusing the de-sulfured metal fines rather than disposing of them, MFR contributes to the circular economy by eliminating waste and making the most of available resources.
From the Ground Up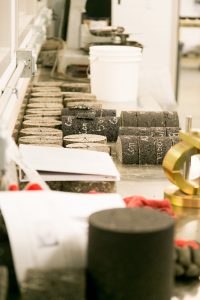 Some Accelerator projects have a much longer scope. Sunthetics, a startup that aims to make the development of new molecules more sustainable, harnessed HRG's resources and brainpower to develop their pilot product: an electron reactor that enables organic synthesis.
"Sunthetics was developing new hardware, and we were the first pilot users of the product. So as you can imagine, there was a lot of trial and error in the lab and collaboration with the founders to get to a functional prototype," said Rothrock.
The reactor, which uses electricity to produce a small-scale chemical, is paired with machine learning software, which predicts the most efficient conditions for reactions. Configuring the reactions was just the beginning.
"We had a lot more optimization and work that had to go into understanding the system," said McLeod, who brought together a large team of researchers to work with Sunthetics. "Myself and one other chemist were working with the hardware to perform the reactions, and then we had another part of the team doing the chemical analysis and method development."
The outcome of the accelerator for Sunthetics was an effective, repeatable framework for testing reactions. "We can run the Sunthetics system and demonstrate improvements in efficiency over multiple tests," said McLeod. "That was a significant outcome for the Sunthetics team."
A Vision Realized
For accelerator startups, the benefits of working with HRG extend far beyond the doors of The Center. For participating startup Pretred, the accelerator served as the perfect place to brainstorm. Working to mitigate the environmental impact of tire waste, founder Eric Davis envisioned road barriers made of recycled tires. "There's got to be something we can make out of it," he said in a Techstars Crowdcast of the tire and plastic waste occupying a local river. "It's high volume and potentially high value."
"We have members of the HRG team who have previously worked in related industries — tire, rubber, resins, all the different components that he was using — so he found a knowledgeable resource in simply having access to those people, brainstorming ideas, [and] talking about his process," said McLeod.
One such team member is Research Engineer Dennis Justice. "The wide range of product and process assignments we participate in sets us apart from other research groups," he said. "My knowledge, matured in multiple manufacturing environments, aided Pretred directly in building prototypes and rapid production improvements."
Justice aided in identifying materials and processes needed for Davis's idea to become a reality: six-foot-long, one-ton construction barriers made of over 95% recycled material. With his help on the first manufacturing run, Pretred went from proof of concept to a full-scale product in just two weeks. "Over a short period of time, with limited resources, the Pretred sustainable construction product has gone from an idea on paper to a one-ton reality. The company continues to build on these manufacturing learnings and uses the first set of manufactured products to capture customer interest," said Rothrock.
A year out from the accelerator, Pretred is looking forward to commercial scale manufacturing and product launch as well as addressing alternative waste streams. A seed-round investment of $3 million led by HG Ventures proves Pretred's potential within the hard tech industry.
Justin Edmonds, founder and CEO of MFR, will be deepening his relationship with Heritage Interactive Services. "He's made strong connections with the business unit and is actively working with them to help solve our customer's waste problems," Rothrock said.
Currently, the founders of Sunthetics are moving forward with the reaction method pioneered in collaboration with HRG. "That's actually one of the biggest takeaways: now they have an established method for data analysis to use with targeted customers," said McLeod.
After the Accelerator
Startups leave the Heritage Group Accelerator with 13 weeks' worth of collaboration, creativity and innovation that translate into an incredible amount of business value. In return, the impact they leave behind is a major motivator for the Heritage family. "I just love that the broader Heritage Group gets exposed to entrepreneurs and their thinking, their energy," said Rothrock. "It's electric. It's awesome."
As the 2021 cohort of startups travels to Indianapolis for their own turn at the accelerator, Rothrock anticipates seeing The Center once again abuzz with the same lively dynamic. McLeod agrees: "There were ten different companies that were in completely different markets, and I got to learn about all of them and be involved in that process," she said. "Our ability to catapult both their technical and business development is incredibly valuable."
To learn more about the accelerator, visit hgventures.com/hgaccelerator/.