Just over a year ago, war erupted in Ukraine. Following a long buildup of military equipment and forces, Russia invaded Ukraine on February 24, 2022. In the days and months that followed, Russia's bombings targeted essential infrastructure and systems, including hospitals, schools and neighborhoods, leaving destruction and devastation at every level of Ukrainian life. In news reports and through footage posted to social media, many were witness to the millions of Ukrainians being killed, displaced or forced to flee their country.
As a response to the invasion, Purdue University launched the Ukrainian Scholars Initiative, a program to host individuals whose lives were upended by the war. The goal of the initiative is to offer support to scholars who held faculty positions or were conducting research at Ukrainian universities the opportunity to safely continue their academic pursuits at Purdue.
"Our aim is to make at least one small contribution to help the Ukrainian people in this moment of peril," Purdue's then-President Mitch Daniels said of the program's launch in March 2022. "Our hope is that we can offer refuge to these scholars and a chance to continue pursuing their work, and then see them return to a safe and free Ukraine. But while they are with us, I don't doubt that they will personify and perhaps share with our students the precious value of freedom and the constant need to defend it from its enemies."
Having experienced the terror and sadness of the war unfold, leadership within The Heritage Group (THG) gathered with representatives from Purdue to help fund the initiative. "For 90 years, the Heritage Group has been committed to building a safer, more enriching and sustainable world by harnessing the power of family," said Sara Morris, Director of Strategic Initiatives. "We are fortunate to be able to support this initiative to enrich the lives of the individual Ukrainian scholars, their families, all who come into contact with them at Purdue, and for our own team members."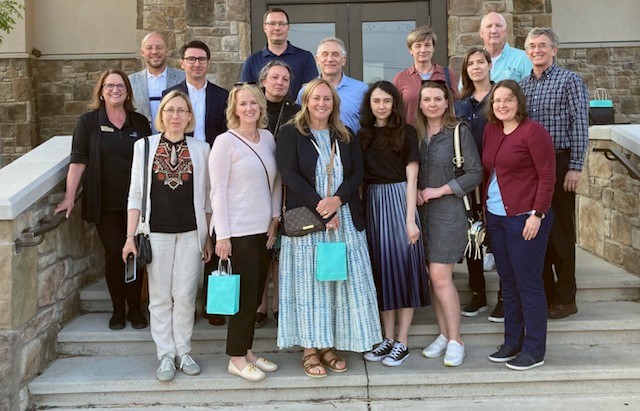 Purdue received hundreds of inquiries to the program, ultimately welcoming nine scholars. Michael Brzezinski, Dean of International Programs at Purdue, notes that the Ukrainian Scholars Initiative is one of the first, largest and most ambitious university-led programs in the United States. According to the university, the visiting scholars participate in several academic pursuits that span many schools of study – from chemistry, library sciences, psychology, linguistics, sociology and neuroscience to political science, management, history, and earth and planetary sciences.
Through the grant, THG has pledged a two-year commitment to the participating Ukrainian scholars that will run through May 2024. "After the arrival of all of our nine scholars, The Heritage Group was eager to learn more about each individual and to know how they could help," Brzezinski said. "We're so very pleased and grateful that they are contributing the majority of funding needed to sponsor each scholar. Individuals from Heritage are eager to meet our Ukrainian faculty and students, a sign that they are truly interested in their well-being."
As of late February 2023, the total number of Ukrainian casualties has surpassed 8,100 according to the U.N.'s Office of the High Commissioner of Human Rights. It is estimated that over 8 million citizens have been displaced within Ukraine and another 8 million have fled the country. While the war continues, so does The Heritage Group's commitment to Purdue's visiting scholars. "The ultimate hope is for the war in Ukraine to end and for these scholars to be able to return home, but we are so pleased to support these amazing scholars in the meantime," said Megan Savage, VP of External Affairs. "Beyond the financial support to cover their basic needs, it is our hope that we will have an opportunity across THG for our teams to engage with the scholars to learn about their experiences, both personally and professionally. There is a long connection between THG and Purdue, and our support is a natural extension of that. We also stand ready should any of the scholars need more wrap-around support, it is our hope we can tap the THG family to help provide that."
About Purdue University
Purdue University is a top public research institution developing practical solutions to today's toughest challenges. Ranked in each of the last five years as one of the 10 Most Innovative universities in the United States by U.S. News & World Report, Purdue delivers world-changing research and out-of-this-world discovery. Committed to hands-on and online, real-world learning, Purdue offers a transformative education to all. Committed to affordability and accessibility, Purdue has frozen tuition and most fees at 2012-13 levels, enabling more students than ever to graduate debt-free. See how Purdue never stops in the persistent pursuit of the next giant leap at https://purdue.edu/.