COVID-19: Working to Keep Communities Safe
COVID-19: Heritage Heroes in Action
Indianapolis, April 03, 2020 – COVID-19: Heritage Heroes in Action
Meet our employees who are working tirelessly to contain and prevent the spread of coronavirus.
From the heart of the Midwest and around the world, our teams are hard at work keeping our communities and nation safe. From those in the field decontaminating facilities to creating key chemicals for the healthcare industry and those working at home to flatten the curve – The Heritage Group is at the forefront of containing and further preventing the spread of this virus.
We are proud to be in essential industries and consider it a privilege to serve the world, our communities and our people.
HELPING THE WORLD
In our diversity is our greatest strength, using our collective subject matter expertise to address the big problems a global health crisis can present. Here's a brief look at the ways some of our core industries are impacting the containment and prevention of this virus.
Environmental Services
Our emergency response services rapidly deploy coronavirus disinfection and decontamination resources to help our customers maintain business continuity in a variety of settings. By following EPA and CDC recommended methods and materials, we give customers impacted by COVID-19 peace of mind to safely restore operations.
See an emergency response team in action!
[embedyt] https://www.youtube.com/watch?v=XkkbfNouLUk[/embedyt]
Specialty Chemicals & Fuel Products
Our products and chemicals make a difference in our customers health, safety, comfort and ability to get jobs done every day, including:
Disinfectants and foaming agents that make cleaning products effective at eliminating bacteria and viruses (like the isopropyl alcohol used to make hand sanitizer).
Active pharmaceutical ingredients, which are the central ingredient in both prescription and over-the-counter medications.
Polymers, thermoplastics, resins and other key ingredients necessary for the production of medicines, vaccines and medical devices, including blood and IV bags, tubing, syringes, masks and gowns.
Oil, gas and diesel chemicals, jet fuel ingredients and other fossil fuel additives crucial to the logistics, shipping and transportation sectors.
Color pigments used in printing ink formulas and adhesives used for pharmaceuticals, medical devices and sanitary products.
Materials used in circuit boards and semiconductors essential to electronics such as medical equipment, telecommunications technologies, computers and phones.
HELPING OUR COMMUNITIES
In addition to maintaining focus on their families and our businesses, our employees are being a light to their communities through financial gifts, service and time. Here's a look at how The Heritage Group is coming alongside our employees to impact their communities: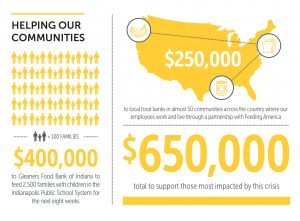 $250,000 – To local food banks in almost 50 communities across the country where our employees work and live through a partnership with Feeding America
$400,000 – To Gleaners Food Bank of Indiana to feed 2,500 families with children in the Indianapolis Public School system for the next eight weeks.  Click here for news coverage
$50,000 – To establish the Indianapolis E-Learning Fund to support Indianapolis educators, students, and families during the transition to e-learning in response to the COVID public health emergency.
$700,000 total to support those most impacted by this crisis
Here are just a few examples of our companies in action in their local communities:
Indianapolis, IN – Milestone Contractors
Supporting Wheeler Mission by making sack lunches for the shelter, supplying 160 sack lunches each week through April.
Champaign, IL – Champaign Asphalt Company
Working with United Way of Central Illinois and donating $15,000 to non-profit supporting community's most vulnerable citizens.
Houston, TX – Monument Chemical
Collecting food and pet supplies for local shelters, donating thermometers, creating employee wellness kits and donating blood through local blood drives.
Heritage Environmental Services
Indianapolis, IN
Donating to 25 food banks in 18 states, partnering with Ronald McDonald House to provide dinner donations to families and providing pizza to local emergency room healthcare workers.
East Liverpool, OH
Donating toothpaste and other sanitizing products to local shelters and non-profits, and providing boxed lunches to frontline healthcare workers with food from a local small business.
Tulsa, OK
Partnering with a local church to provide a total of 8,000 meals to families in need through Feeding America and the Community Food Bank of Eastern Oklahoma.
HELPING OUR PEOPLE
The health and safety of our employees remains our top priority. While we're continuing essential business operations, we've taken immediate measures company-wide to reduce exposure, including work from home, travel restrictions, social distancing and enhanced cleaning and sanitation protocols in all of our locations.

Our ONE Heritage Fund was created to support our Heritage family of employees in times of need following a natural disaster or unforeseen hardship.
Leaders at Heritage Environmental Services suit up to train so they can join their essentials employees at work in the field.
HES | COVID-19 BUSINESS CONTINUITY RESPONSE from The Heritage Group on Vimeo.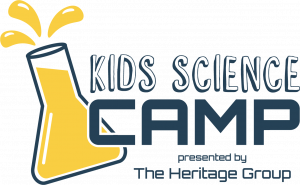 Our Kids Science Camp program provided resources to help employees engage with their children about COVID-19 preparedness with some fun activities to complete as a family.
The Heritage Group immediately understood the need for telehealth resources and arranged with its healthcare partners to ensure the service was free to its employees to keep not only themselves, but their families healthy.