Women's Equality Day is held annually on August 26 to honor the certification of the Nineteenth Amendment, which recognizes women's right to vote. In celebration, The Heritage Group profiled Liz Larner, General Counsel of Heritage Construction + Materials (HC+M), to examine how women's equality has played a role in her professional life.
HER STORY
Liz Larner knows exactly where she belongs. Whether she's negotiating a mergers and acquisitions agreement in a boardroom or touring a jobsite in a truck and boots, Liz Larner feels perfectly in place as General Counsel for HC+M.
In her role, Liz is responsible for assessing risk involved within all the operating companies across HC+M, including US Aggregates, Asphalt Materials, Inc., and Milestone. Her responsibilities also include understanding environmental laws and regulations, managing both Human Resources and safety regulations, certifying compliance, maintaining a diverse, inclusive, and non-discriminatory workplace, and above all, ensuring the safety of our Heritage employees. As Liz explained, "A lot of times people think attorneys review contracts or oversee lawsuits–Law & Order type stuff. My lens is different where I am responsible for thinking through all sorts of risks to the company and risk mitigation. I think through future scenarios where if we don't proactively respond, there is the likelihood of increased risk."
To put employees and customers first, Liz works diligently to build and anticipate the needs of those she serves. "People hear the word attorney and think I must somehow be intimidating. The challenges come when I try educating people that I am here to help them," Liz noted. "My view is you always want to talk to me because I promise to support you. I always say, Do what you do, and I am here to help you do it better."
PAVING HER OWN PATH
Prior to joining The Heritage Group in June 2021, Liz's professional career had been a self-professed winding journey that included a role in the Indianapolis mayor's office. "I worked for the Department of Public Works, so I know a thing or two about roads, sidewalks, and potholes," she quipped. After attending law school with the hopes of breaking out as a civil rights attorney, Liz assessed her mounting student loan debt and opted instead to work for a large legal firm. This is where she developed her expertise in mergers and acquisitions, and while serving in an advisory role with a client, was asked to become their senior legal counsel. "I fell in love with being on the inside of business within an oil and gas operating company. I would close the deal, deliver a new company, determine benefits and payroll, and manage operations. Wanting to be on the inside of the business as a teammate while assisting with the legal aspect all resonated with me."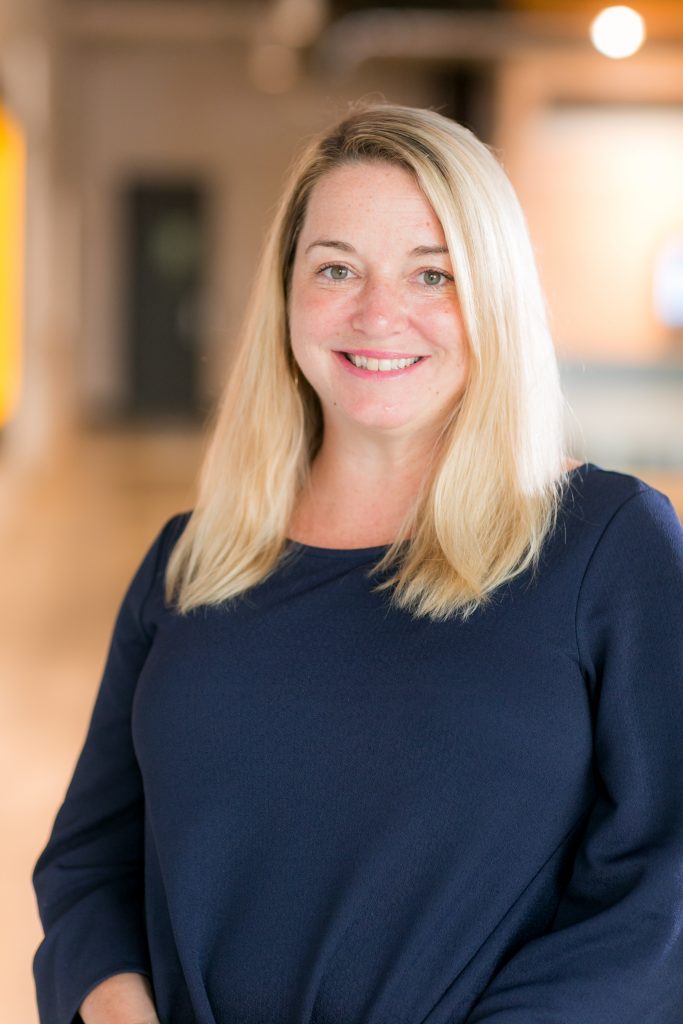 This career shift sent Liz on a path in which she often found herself as the only woman operating within male-dominated industries. Liz leaned heavily on her upbringing and ability to connect with everyone. She noted, "My dad worked in construction and has always been a source of good advice." That guidance includes being well-versed in the language of construction, over-preparing, and meeting people on their turf. "I learned early on that in order to gain trust and respect, I had to take as many face-to-face meetings as possible," remarked Liz.
These traits have proven to be beneficial, particularly during tenses. "Meetings like that can be a painful process as it can get very contentious," she said. In one proceeding, Liz recognized that the older male attorney representing the other side would not address her directly. "He only spoke to the man to my side, who is not only 10 years younger than me, but also has less legal experience." Despite making decisions the entire meeting, the opposing side continued to not acknowledge Liz. "He wouldn't look me in the eye," she lamented. At the conclusion of the negotiations, the opposing representative finally recognized Liz, "If there's one thing I've learned in these two days it's that you are essential to this process." Feeling accepted, Liz knew her deep knowledge, experience, and her friendly-yet-commanding approach is what earned her the respect.
While she has still experienced setbacks, Liz is thankful for the women before her that blazed trails to allow her to find her place. "I had some people who paved the path ahead of me and now I am interested in helping young women come up through the ranks," said Liz.
FINDING OPPORTUNITY
Since joining The Heritage family, Liz has found a place that allows her to lean heavily on her expertise while operating in a welcoming, professional environment that celebrates her individual attributes. "One of the reasons I was attracted to The Heritage Group is because the opportunities are limitless and the culture is such that I can use my skill sets in ways that are truly appreciated," Liz said. She also feels supported and empowered by witnessing strong women in leadership roles at Heritage. "In my past, there have been very few women in leadership roles. While I have typically reported to men, and while I still do, I've never been surrounded by as many women leaders as I am now. It's refreshing," Liz observed.
---
"One of the reasons I was attracted to The Heritage Group is because the opportunities are limitless and the culture is such that I can use my skill sets in ways that are truly appreciated," Liz Larner, General Counsel, HC+M
---
While ensuring her fellow female colleagues are afforded mutual respect and are aware of avenues to develop their talent, Liz indicates there is still potential for empowerment opportunities in the professional setting. For her, achieving equality within the workforce means that male colleagues, especially those in positions of leadership, need to be challenged and encouraged to advocate for all voices. "I want men in leadership positions to be champions of equality, to be mentors for women," said Liz. This advice also extends to female colleagues. "There have been times when I've questioned whether I should be at the table. I tell younger women to sit at the table. I remind them that they belong there," she asserted.
For Liz, gaining equality in the workforce means that women need to consult in more advisory roles, sit on more boards, and serve in leadership positions. While she notes that equitability awareness is increasing, she's persistent in her belief that the road ahead is long. Looking to the future, Liz's steadfast expectations are as high as her ambitions. "There's scientific data behind the fact that women in leadership is better for professional relationships, it's better for cultures, and it's better for revenue."