The Emmy Awards honors the best in television, but did you know that The Heritage Group has its own pair of Emmy-award winning filmmakers?
Built on a friendship that developed over two decades ago, filmmakers Bill Baker and Matt Mays have witnessed their working partnership grow into an award-winning collaboration. When not writing, directing, producing and editing dynamic video content for the Heritage family of operating companies, the duo creates works of film that receive significant accolades. Recently their film, a 30-minute featurette highlighting the work and importance of The Indianapolis Prize, won in the category of Outstanding Branded Content – Long Form at the 53rd Central Great Lakes Chapter Emmy Awards.
The pair first met in college and have since built not only a strong bond, but a working relationship that thrives on creativity, collaboration and trust. "What we have in place now was not expected, but it is the culmination of a 25-year friendship and working relationship. It's not an accident that we ended up here together, but it was by no means a predetermined arc," noted Matt. "But it's a pretty funny and interesting culmination of thousands and thousands of hours of working together in all corners of the world."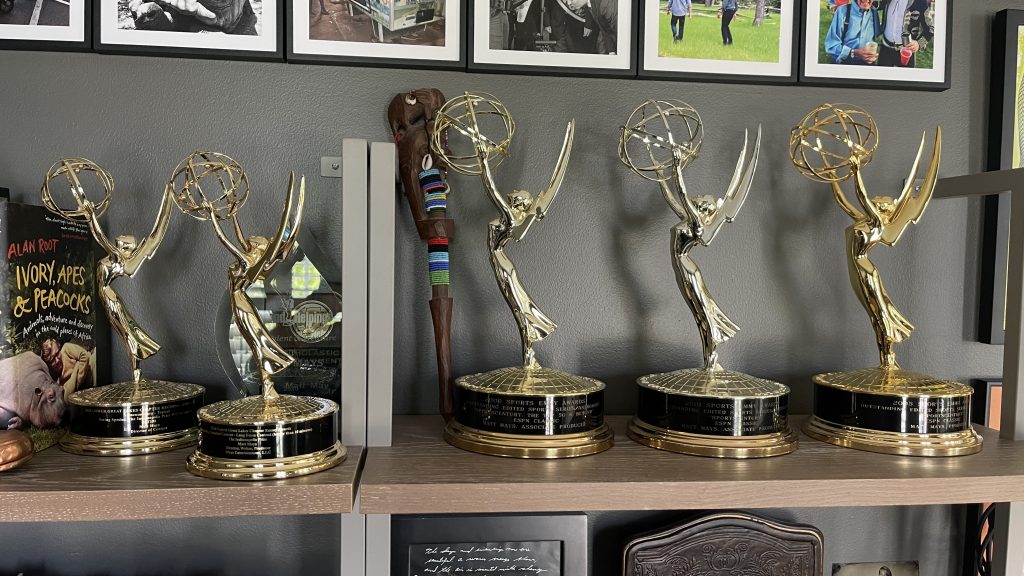 Prior to joining The Heritage Group, Matt and Bill worked together on several collaborations, including a series for ESPN called SportsCentury. "That project was a Peabody and Emmy-winning series, which turned into a bunch of work for other entities like History Channel and Discovery Channel," said Matt. What followed was an opportunity for Matt to branch out on his own, which is when he discovered The Indianapolis Prize. "The vision for it was to be like the Nobel Prize for animal conservation."
Founded in 2006 by the Indianapolis Zoo, The Indianapolis Prize is a conservation initiative that recognizes six individuals from around the world who have dedicated their lives and work to the sustainability of the Earth's endangered species. Winners receive a cash prize of $250,000 and the five finalists receive $50,000. Armed with a camera and the goal of capturing the stories of these conservationists, Matt and his production team hop around the globe to film in exciting locations. "Matt does the production work of going out into the field and shooting all of the footage of all of those nominees," said Bill. "We produce a short film for each of those six finalists, which are then used and screened at the semi-annual black-tie gala where they honor the finalists and winner."
"I hope that THG has a great respect for what we can produce, and that they trust us with our work and our vision. When you see that trust in action, it's an amazing thing. That trust engenders us to want to put our best effort forward. To be able to continue working with Bill has made all of the difference in slowly building our own little production department, and it's all exciting." – Matt Mays
For the team, the accolades are only part of why they choose to work for this cause. "If you get into the subject matter of sustainability and saving species, The Indianapolis Prize is undoubtedly the most important and meaningful project I've ever worked on," remarked Matt.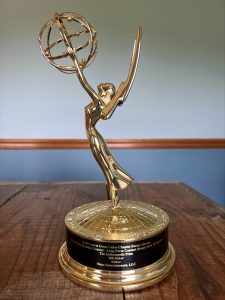 This 25-year culmination of honing their craft has now landed the pair at The Heritage Group, and their vision for telling dynamic stories is reflected in the work they produce in the many industries of the various operating companies. From training materials to marketing pieces to content displayed throughout the building, Bill works closely with the Marketing and Communications Department as editor for all video production needs of The Heritage Group and its operating companies. Additionally, Bill serves as Multimedia Services Lead, chiefly supporting the audio/visual needs of meetings and events at The Center. Matt produces, writes, and directs video content for THG and its operating companies, while serving in roles related to events throughout the Center. "Thanks to my work with The Indianapolis Prize, I have a perspective of what a lot of natural resources look like in a number of different countries. I know what the issues surrounding environmental struggles are in those places, so I can tell better stories around sustainability," remarked Matt.
For Bill, the relationship and missions between The Indianapolis Prize and The Heritage Group feels like a natural alignment, especially regarding environmental stewardship and sustainability. For him, the work he and Matt produce is a showcase of how these amazing scientists and conservationists are striving to make the world a better place. He noted, "Written into the purpose of The Heritage Group is the idea of building a safer, more enriching and sustainable world by harnessing the power of family, which aligns perfectly with the work that we have been involved with The Indianapolis Prize."